A Conversation About COVID-19 with Dr. Ed Frank and Renée Richardson, AWMH's Executive and Associate Directors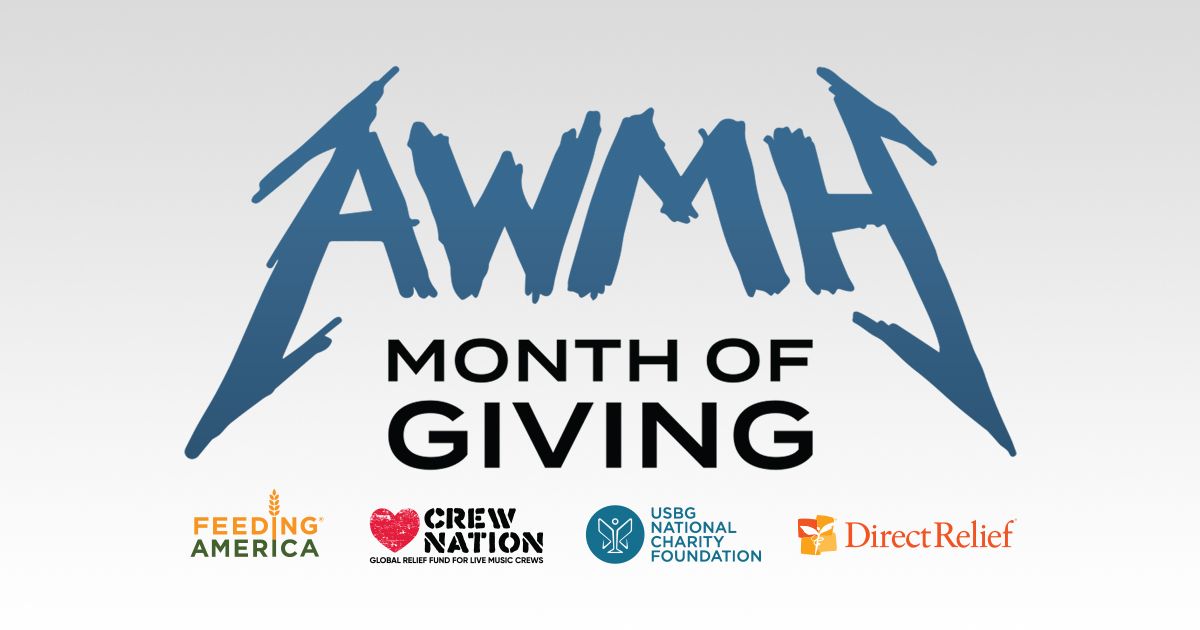 May 5, 2020
BY STEFFAN CHIRAZI
Before the launch of this initiative, Steffan Chirazi - editor of Metallica's online publication, So What! - sat down with Executive Director Dr. Ed Frank and Associate Director Renée Richardson to discuss AWMH's contributions to COVID-19 relief efforts.
As you might imagine, All Within My Hands is busier than ever right now doing what it can to fight the good fights which need fighting everywhere during these unprecedented times. It was recently announced that the Foundation had given grants totaling $350,000 to four different causes, so I asked AWMH Executive Director Dr. Ed Frank for a breakdown of what AWMH had engaged with recently.
"We're very focused on disaster relief," confirmed Ed. "It started several months ago with the wildfires in Australia, and obviously since late February/early March it has become more focused on COVID-19 relief, and we're approaching that in several ways. One of them is through supporting Feeding America's COVID-19 relief fund, we see that as the obvious thing to go and do given the strong relationship between AWMH and Feeding America. The fight against hunger is something the band has been a part of for a long, long time and AWMH has been doing that with every concert the band has played in North America through Feeding America. So that kind of support didn't require a second's thought, and it isn't about any specific community because this is a nationwide problem where every community needs help."
Obviously, COVID-19 is a pandemic, meaning nowhere is left unscathed by its relentless spread, and to that end AWMH wanted to engage something international too.
"We're working with an international partner we've worked with before called Direct Relief which helps in the medical arena. So we've given support to the Direct Relief COVID-19 relief fund, which will help provide medical assistance, equipment, hospital needs, anything medically-related."
Bringing it back close to home, AWMH is also engaged in making sure the good folk who serve you are not forgotten, as well as those legends who are the backbone of every show and tour you've ever been to or on.
"Yeah, we're working with two other organizations who help people that really have direct contact with supporting those who help events take place. One is called The United States Bartenders Guild, which encompasses all those great servers in your local restaurant, bars and concert venues, and the other one is Crew Nation, which is being driven by Live Nation and is providing support for all the tremendous roadies and crew who help shows happen."
Associate Director Renée Richardson also wants to make sure that all of you reading this (and your friends and even their friends!) have a massively important role during these crazy times, whether it be with your time or financial support. Anything, and everything, helps.
"Every food bank is a little different, so first of all check with them on what they're up to and how you can help," says Renée. "I've spoken to Feeding America and individual food banks. All are having to pivot and all have different needs. Some require volunteers like crazy, and they have it set up for volunteers to come in and be very, very safe, with proper social distancing markers, washing stations and every precautionary measure you can think of, not even a pen gets touched by more than one person! Other food banks have changed their whole methodology to where it is all about boxing the food up, so they need people to box food up in individual areas. It's going to be a long road for the food banks. People are going to have a lot of opportunities to help, and food banks are going to need a ton of help."
Just like many other industries and individuals, food banks are going to take a massive COVID-19 hit. Even the approximate figure makes the eyes water.
"Right now, the hit food banks will take is into the billions [of dollars] because you have to remember, it isn't just about the communities currently served, it's about the people who are going to need the food banks as their income gets taken away during this pandemic," explains Renée. "So please, check in with your local pantries and food banks, check in with places you may have helped at before or places you know need the help. You can go to the 'Month of Giving – Feeding America' page on the AWMH website and see the specific needs and links to our partner food banks that have participated in previous years' Days of Service, which is a great place to start."
It doesn't hurt to point out the following vital fact: Now is a time to give anything you possibly can. Time where it is needed? Tremendous! Money? Look, even a fiver is a massive deal when you think about where it's going.
"Our partnerships are vital to what we do," concludes Renée, "they have a huge impact and know exactly how to get the most out of a dollar, which is why our partnerships with the likes of Feeding America are so important."