An Update From Our Partners: Your Dollars At Work
August 3, 2020
It is thanks to the generous support of the Metallica Family through direct donations, participation in #MetallicaMondays fundraisers, and hosting independent fundraisers, along with a donation from our friends at Salesforce, that All Within My Hands has been able to provide $645,000 to COVID-19 relief efforts.
Because you make the work we do possible, we want you to see the impact your donations have. Check out the updates below from our grant recipients to see the kind of difference they have made through their response programs. 

Feeding America Covid Relief: The First Months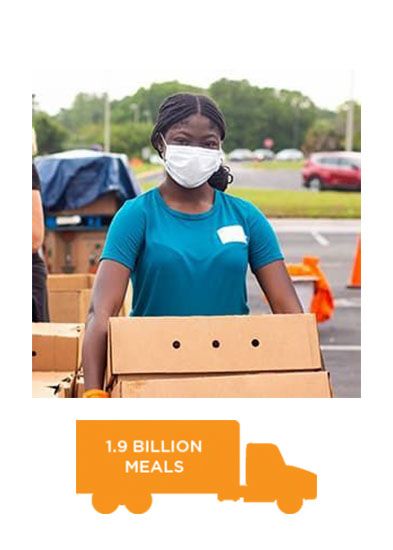 From the beginning of March through June food banks nationwide distributed more than 1.9 billion meals to people facing hunger in the United States. In March alone, food banks gave out 20 percent more food than an average month. 
Because of you, Feeding America and food banks across the country are making sure our neighbors impacted by the crisis have the food they need. At a time when so many people are visiting food banks for the first time, your support is driving our strong daily response.

Direct Relief Covid-19 Pandemic: Six Months into the Response
$30 Million+ in grants. 17,553 shipments. 1,400 tons of medical essentials, including 13 million masks, 1.3 million face shields, and 76 million doses of medications.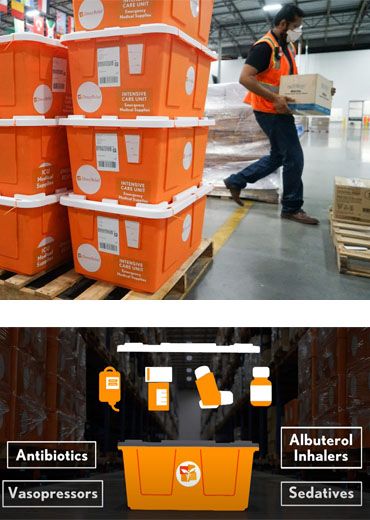 Direct Relief is funded entirely with private charitable contributions of goods, services, and money and focuses its humanitarian health activities on serving people who are most vulnerable.
During COVID-19, Direct Relief's priorities have been to provide personal protective equipment (PPE) and essential medications, boost emergency financial support to nonprofit safety-net health facilities, and generate information products and analyses to guide operations and inform policymakers.

Live Nation's Crew Nation Initiative: Global Relief for Live Music Crews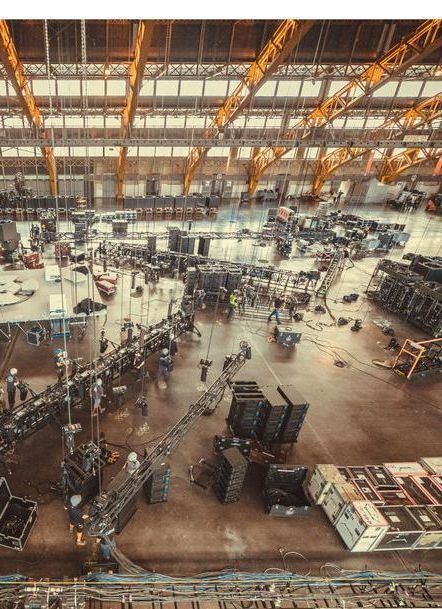 With concerts and festivals still largely on pause, there are hundreds of thousands of crew members who still need help as they see their work interrupted through what is normally the core summer concert season and through the remainder of the shutdown.
Crew Nation Global Relief Fund has raised $15 million to support live music crews who have been affected by the ongoing COVID-19 pandemic. The money raised so far is able to help 15,000 crew members across 36 countries who were impacted by the rescheduled or cancelled shows scheduled to take place through June.

MusiCares: COVID-19 Relief Fund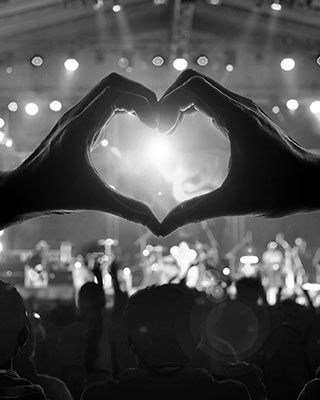 COVID-19 has devastated the music community, leaving thousands of music creators and professionals with an uncertain future.
The MusiCares COVID-19 Relief has helped upwards of 16,000 music industry artists and professionals affected by the pandemic. This is the most recipients helped, for any single event in MusiCares history. However, the need remains great, and these unique times remain critical for music people.

USBG National Charity Foundation - Bartender Emergency Assistance Program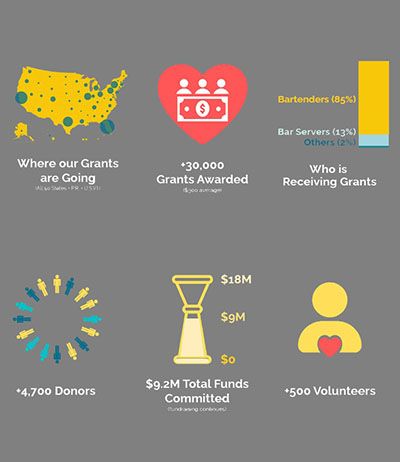 The USBG National Charity Foundation's Bartender Emergency Assistance Program (BEAP) COVID-19 Relief Campaign is the single largest relief effort ever attempted by the USBG Foundation.
As of June 8,  they have received 60,000 valid (complete and eligible) applications for aid. The USBG Foundation has awarded 27,500 grants total (so far), the total amount awarded to hospitality professionals in dire need is currently $8.3M, and grant-making is ongoing.