Craig - Clackamas Community College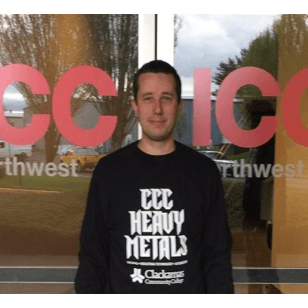 Even the best laid plans...
At a young age Craig joined the military and spend 14 years working towards a retirement plan but, as they say, life happens and his plans took an unexpected turn. With his service in the military behind him he was faced with trying to go to college and support his family on part-time jobs. 
"I found myself working two-part time jobs one working 40 – 60 hours a week and another working 20 hours a week to make ends meet. Trying to take care of my family and working so many hours, it was all just too much."
 
Upon learning about the TechHire program offered at Clackamas, where ICC Northwest was creating a pipeline of jobs for student in the welding program, Craig found what he needed to gain skills and make money for his family. Plus, there was the guarantee of a job after his training was complete.
" I now have a job that allows me to be there for my family and has given me a career that pays the bills. The Metallica scholarship through the All Within My Hands Foundation was amazing, as I did not have money to buy the equipment I needed for my new career. It provided the tools I needed to successfully do my training and continue my job."