Joshua - Valencia College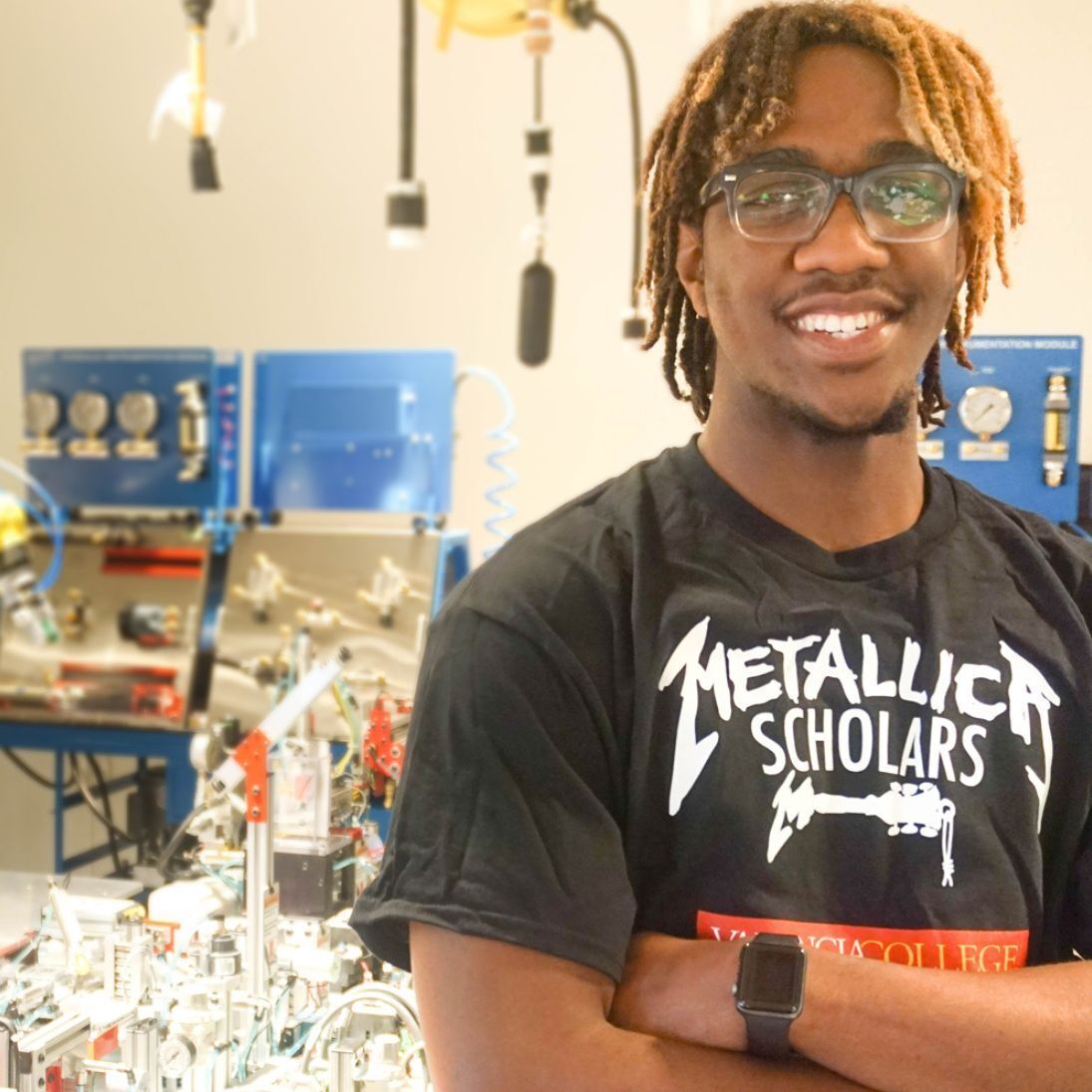 Joshua Hendricks discovered metal music not too long before becoming a Metallica Scholar thanks to the All Within My Hands Foundation. Rock and metal music was not something he spent time listening to much growing up, instead he was developing a passion which would eventually lead him to a career with the Doppelmayr Group working on the Disney Skyliner. 
"I've always been a machines guy. It's always been something I've enjoyed. I like cars, robots, mechanical components as well as electricity. It clicked early that this was going to be something I would enjoy."
A lot goes into training in the Industrial Automation Technician - Mechatronics program, but it's necessary to set students up for success after graduation. Hendricks said the class teaches you the innerworkings of industrial and commercial machines and how the mechanical and electrical components work. Fluid power (hydraulics) and air pressure (pneumatics) is also covered extensively. "It's an all-encompassing approach to the field."
Like many other successful students who have come through the program, Hendricks found himself employed before graduation. He was hired by the Doppelmayr Group to work on the Disney Skyliner. 
"I love it. It's amazing. It's a lot of learning through experience and I'm accumulating a lot of knowledge from the guys who have been there. We work on the gondola system which is a long line of cable cars similar to ski lifts. We work on the cabins, the mechanics that carry passengers through the line, and the electrical parts. We need to know the interfaces and all the systems to make sure everything is safe and up to date. It's all about safety and making sure everybody has a fun time while they're on it."
Even with the wealth of knowledge Hendricks has already gained, the learning never ceases. Especially with the industry continuously changing.
"The direction I want to go in is something robotics related. Robots are the future. I am excited to be a part of something that will grow along with me. As I grow, the industry is growing as well, and I want to get into robotic programming."
His experience in the Industrial Automation Technician - Mechatronics program taught him more than just the classroom material. He is becoming fluent in Metallica music and was overjoyed when discovering he was part of the Metallica Scholars initiative. 
"I almost exploded with excitement. I got in my car with Metallica on full blast and the windows down while cruising the streets. I love how long their songs are, many of them are six or seven minutes long, I love it."