Thank You!
JUNE 14, 2021
With your support and enthusiasm we raised more than ever before during our Month of Giving! We realize this was only the second Month of Giving we've ever done, but still... $200,000 raised to split between Feeding America and Direct Relief? That's AWESOME! Don't take our word for it, take theirs:
"We are grateful for Metallica and its fans for their continued commitment to help provide meals to our neighbors. Their gift of $100,000 will help the Feeding America network provide at least 1 million meals to children and families, many of whom continue to face hardships in light of the pandemic. Together, we can provide hope and nourishment to people in need."
Lauren Biedron
VP of Corporate Partnerships at Feeding America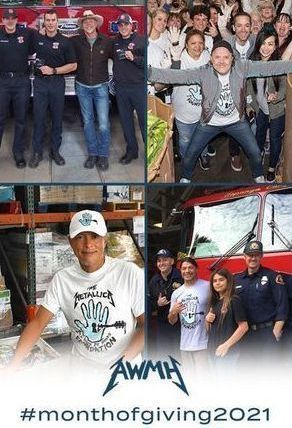 "Direct Relief is deeply committed to honoring the generosity and intent behind every donation by stretching every dollar in the most efficient way possible, recognizing that contributions to Direct Relief are not for Direct Relief, but those we serve. We are profoundly thankful to Metallica and Metallica fans worldwide for their support, which will translate directly into helping people who need, but cannot afford, critical health services."
Thomas Tighe
President and CEO of Direct Relief.