Month of Giving Auctions & Sweepstakes
SWEEPSTAKES
MAY 1, 2023
You may have already heard about our currently-in-progress Fandiem Sweepstakes: Win a Private NetJets Flight To A Metallica VIP Weekend Getaway! If you haven't, check it out now. Not only is the prize spectacular, but proceeds from this fundraiser contribute to our Month of Giving campaign!
Thanks to NetJets and our friends at Fandiem, we're giving one lucky winner and up to six guests the chance to experience a truly once-in-a-lifetime VIP Weekend Getaway to see Metallica on the M72 Tour.
If you're caught up on all things M72, you already know that each tour stop includes two nights with two completely different set lists and opening acts. This sweepstakes isn't just getting you in the door for these totally unique shows. It's putting you in the most exclusive, premium space in the whole venue: your very own "Lux Æterna" Private Viewing Platform! Your own platform means completely unobstructed views of the stage, access to the official "Black Box" pre-show lounge, a complimentary cooler filled with drinks, and many more on-site perks for both shows that weekend.
Thanks to our partners at NetJets, you'll be traveling in style! You and your six guests will enjoy one of their midsize fleet aircraft (XLS, Sovereign, or Latitude) for a completely private, luxury travel experience.
By donating to win this bucket-list getaway, you'll be helping to expand our mission in the areas of workforce education, the fight against hunger, and other critical local services.
There are several donation options, starting as low as $10, plus a free entry method.
Sweepstakes ends on June 23 at 11:59 PM PDT.
AUCTION #1
MAY 9 UPDATE:
Thank you to all the participating bidders in the first of our two Month of Giving auctions! This bundle raised $4,300 for The Farmlink Project!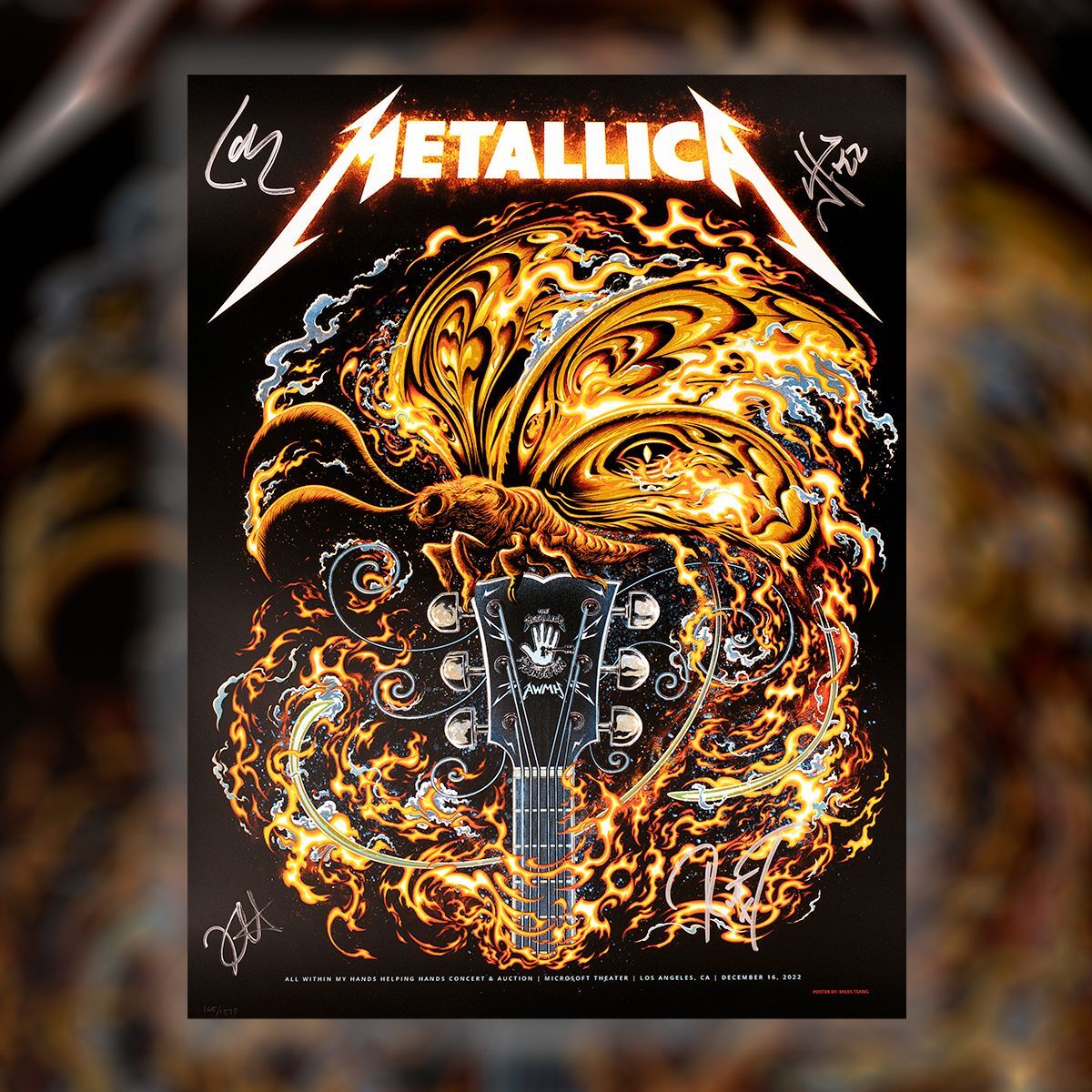 MAY 1, 2023
Our regular monthly auction will kick off as scheduled: May 2, at 12 PM PDT, and run for one week. But why stop at just one? We're doubling the fun for Month of Giving, and will be back with a second auction on May 16!
We're keeping it in the AWMH family and kicking things off with an exclusive Helping Hands 2022 Bundle, including a Metallica autographed official benefit poster and the custom-designed guitar picks and blue drumsticks created to commemorate the show. We'll be back with a second auction on May 16
Poster details:
Designed by Miles Tsang
Measures 18" x 24"
Autographed in 2022 in silver sharpie by all four members of Metallica (James Hetfield, Lars Ulrich, Kirk Hammett, and Robert Trujillo)
Numbered
Guitar pick details:
Custom, one-time design to commemorate the December 16, 2022, Helping Hands benefit in Los Angeles
One side features the Foundation's standard "Hand Logo"
The other side features Squindo's riff on the logo, changing the open hand to horns. Also included on this side are the Foundation's acronym logo and the city and date where the benefit took place.
Produced for Metallica by Dunlop
Drumstick details:
Custom, one-time blue color model featuring the All Within My Hands "hand logo"
Produced for Lars Ulrich by AHEAD
Auction ends on May 9 at 12:00 PM PDT.
Stay tuned for the reveal of the second auction later this month!
Helping Hands 2022 Bundle

AUCTION #2
MAY 23 UPDATE:
Thank you to all the bidders who participated in our second Month of Giving auction! This bundle raised $2,299 for The Farmlink Project!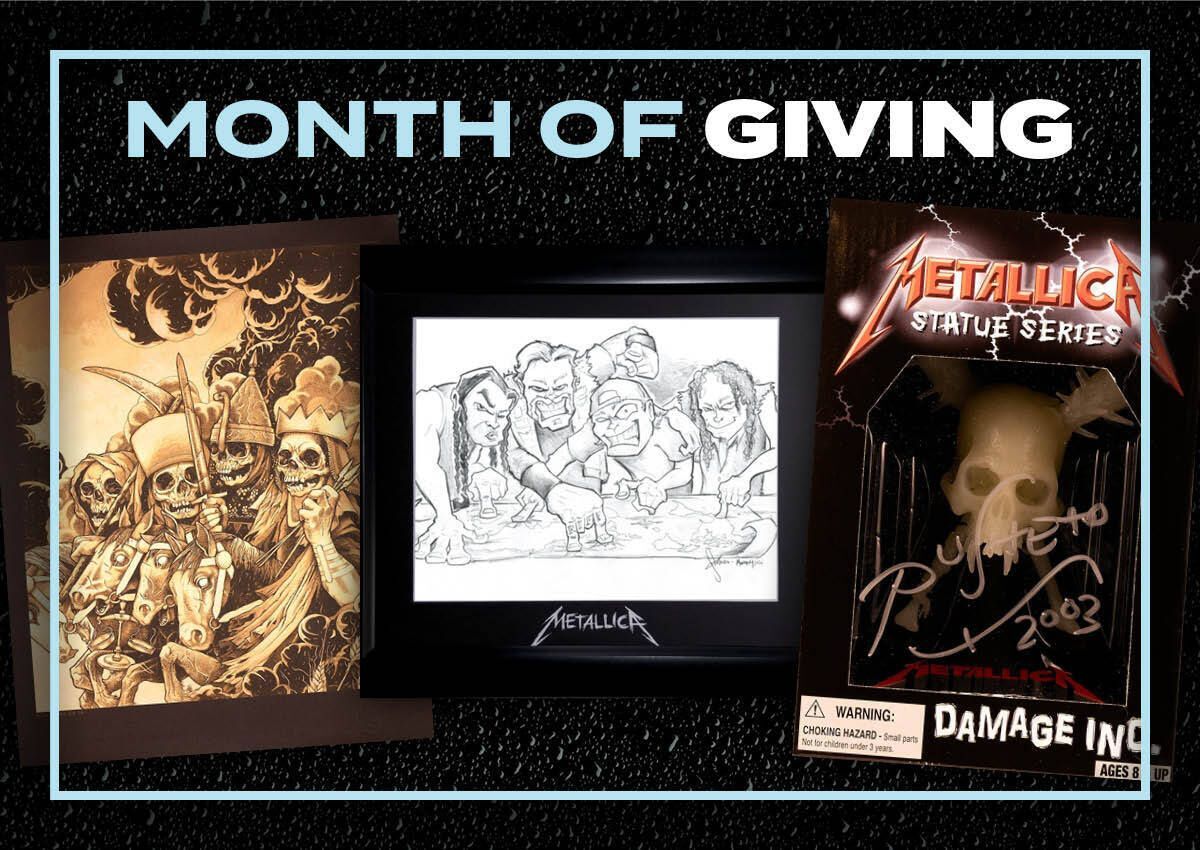 MAY 16, 2023
We are midway through our Month of Giving and, as promised, we're back with our SECOND auction of the month!
This time, we're highlighting some of the art and artists most recognizably linked to the band. The bundle includes works by fan favorites Pushead, Squindo, and John Baizley!
As with everything else we're doing this month, proceeds from this auction benefit The Farmlink Project and their work combatting hunger.
METALLICA ARTIST BUNDLE INCLUDES
Metallica Statue Series - Damage Inc. Signed by Pushead - Rare Glow-in-the-Dark
Limited-edition Damage Inc. statuette signed by Pushead
The first of two installments in Metallica's Statue Series
Rare glow-in-the-dark alternate edition of Pushead's Damage, Inc. skull
Stands roughly 6 inches high and 4.5 inches wide
Produced in 2002 and signed by Pushead in 2003 in silver sharpie
2020 Monopoly Sketch Signed by Squindo
Original pencil sketch for the 2020 Monopoly game board
Final draft of the art, hand-drawn and signed by Squindo
Framed and matted with customized Metallica logo matboard
Matboard measures 11x14 with an 8x10 inch opening
Signed by Squindo
The Four Horsemen Poster by John Baizley
Limited four-color screen print of John Baizley's "The Four Horsemen" artwork
Printed on French Black Licorice Paper
Measures 18"x24"
Hand-numbered 85/200 and embossed