Monthly Fundraisers
(CLOSED) December Auction: Metallica Signed Jump In The Fire Figure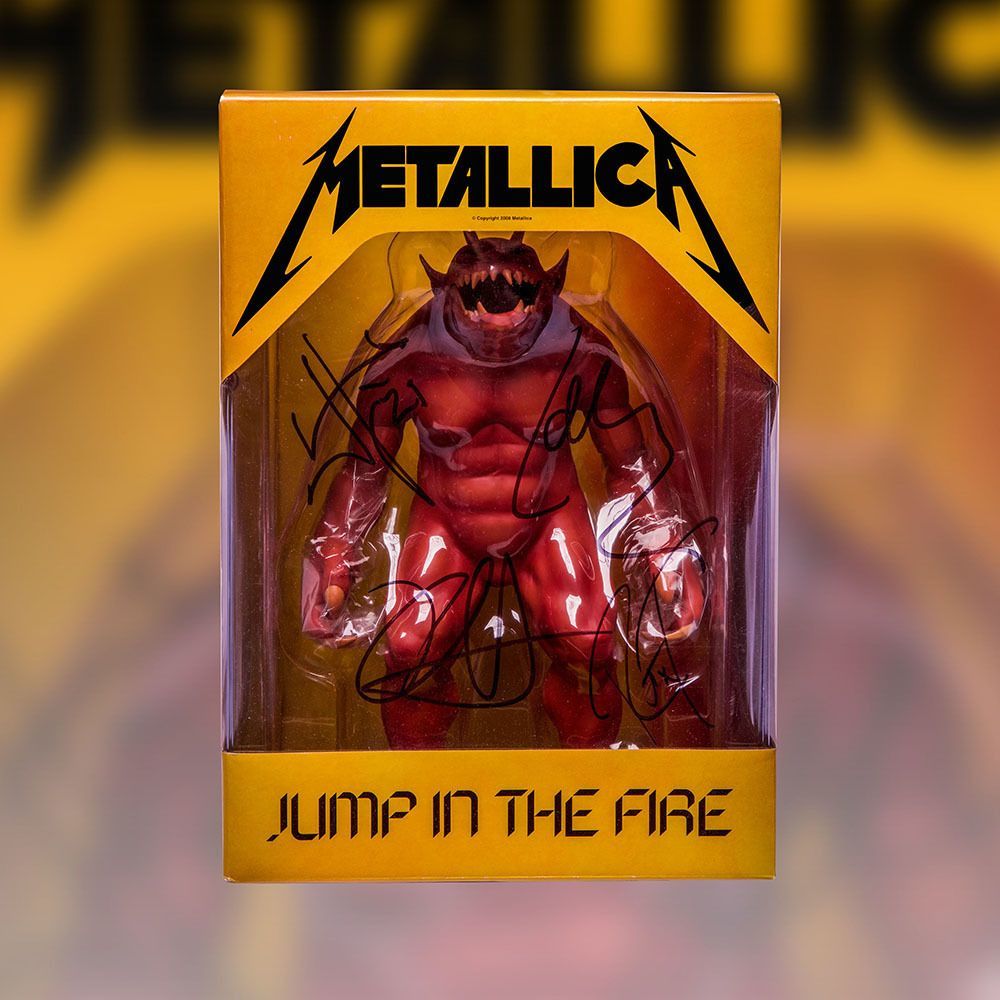 We are closing out 2021 with our final online auction of the year.
To date, Metallica fans have helped us raise $35,500 through our monthly auction. Every dollar goes right back out to support the things we believe in, feeding the hungry, trade education, and disaster relief. 
We are excited about this one… it's a Metallica Signed Jump In The Fire Figure, a limited edition vinyl action figure created by Medicom Toys and sold exclusively in the Metallica Store back in 2008!
This auction is now closed, thank you! We'll have another collectible available to bid on in 2022!
---
What's the deal with the AWMH Monthly Auctions?
Those of you who have been following AWMH for a while will remember that before COVID-19 struck, we hosted an auction every month. Though we're still navigating our new normal, we decided it was time to bring back this old favorite.
On the first Tuesday of every month, All Within My Hands conducts fundraisers typically in the form of auctions, which are now hosted on Givergy! These fundraisers allow fans to bid on unique Metallica experiences and autographed Metallica memorabilia. All proceeds from these fundraisers benefit All Within My Hands and help further the Foundation's work in the areas of food insecurity, workforce education, and critical local services.
Past Winners
Fandiem Raffle 2021

November 2021
Cody was selected as the winner (out of nearly 3,000 entrants!) of the rare, Metallica signed copy of "The Black Album" Delux Remastered Box Set.

Helping Hands 2020

December 2020
The ESP LTD TL-6 used by Kirk during portions of the 2020 Helping Hands Concert and Auction has found its new home! Simon and his family are proud supporters of AWMH. "Again, thanks to you!" -Simon

Helping Hands 2020

December 2020
Upon receiving Kirk Hammett's Home-Grown Fig-Habanero Jam, "Thanks, Kirk!" - Jan

Helping Hands 2020

December 2020
"A huge THANK YOU to All Within My Hands foundation, to Metallica for being the best band in the world, & last to Klay Thompson for signing this awesome jersey. So Awesome!!" -Shawn

Reclaimed Rust, Claimed!

August 2020
"It was a privilege to donate to All Within My Hands and actually receiving the Deluxe Edition Reclaimed Rust collection was a highlight! My next venture is to visit the Petersen Museum and see the Reclaimed Rust collection as soon as it opens to the public."
-Margie

Covid Collection, by JH!

June 2020
"I want to thank you and AWMH for this chance of a lifetime. It means a lot to me to have something so personal from Papa Het."
-Alan

Back to the Front, Down Under!

February 2020
"Myself with the Metallica limited edition book that I've won... Also, long shot, I was wondering if it was possible to meet any members of Metallica the next time they tour Australia?"
-Aldin

New Addition!

January 2020
"I love the addition to my collection! Metallica is and always will be the best band to ever roam this earth."
-Cody

Best Day Ever!

December 2019
As part of our GoFundMe Charity #GivingTuesday fundraiser Isiah was the big winner. "Thank you so much for the gift it's my new prized possession."
-Isiah

Jam Session!

May 2019
Jam session with Robert Trujillo. "I seriously cannot express how awesome and valuable this experience was to me. Time flies when you're having fun, so the four hours we shared felt like just one."
- Matt

Cheers!

June 2019
Dinner with Torben and Molly. " We talked about everything from S&M, to WWII, to Molly's background, to Cliff. Torben and Molly were so welcoming and gracious, we closed down the restaurant after 2.5 hours!"
- Christopher