$200,000 Raised For The Farmlink Project During Month of Giving 2023
JUNE 5, 2023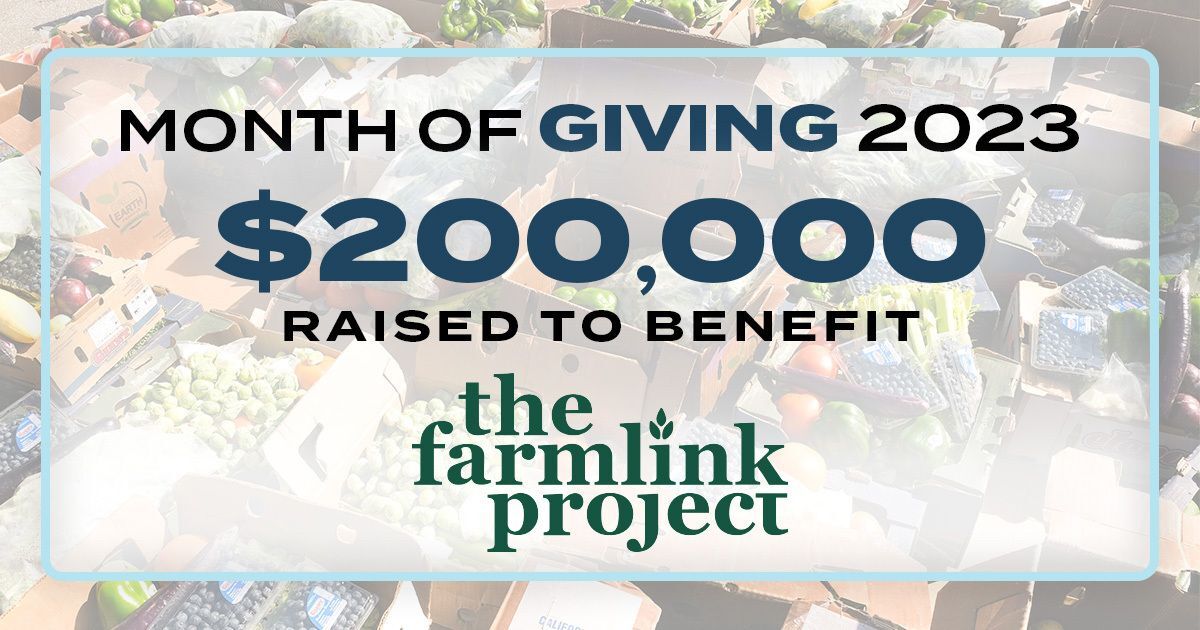 "Working with all of you (Metallica fans) and All Within My Hands has been the ultimate privilege for us at Farmlink. You have all rallied together this month, demonstrating that you are not only passionate about music but also about making a lasting impact on the world! Thank you all for being a part of this ongoing journey to make food accessible to everyone across the country. We hope you will continue to be part of our mission, and we are grateful for your incredible support this month." 
- Ben Collier, CEO of The Farmlink Project
As our fourth annual Month of Giving ends, we are thrilled to report that once again, with the help of Metallica fans worldwide, we continue to provide support for those in need. Thank you to everyone who joined us by making individual donations, shopping the Month of Giving Collection in The Metallica Store, participating in the auctions, entering the sweepstakes, and spreading the word!
And an extra special shoutout to Metallica Fan Club members around the world – particularly our Grand Prize Winner, MASSter of Puppets, and our Second Prize Winner, Japannica: Metal Justice Tokyo. In this year's spirited Local Chapter Fundraising Competition, 37 chapters from 17 countries combined to raise over $58k. When we added that to the dollar-for-dollar matches from a generous friend of the Foundation and our partners at Carhartt, our grand total from the competition alone landed at $176.6k! 
100% of the money raised through the avenues above will help bridge the gap between farm surplus and hungry families through the 2023 Month of Giving recipient: The Farmlink Project. 
"The Farmlink Project came into our world through our partners at Carhartt when they attended the 2022 Helping Hands Concert & Auction. The more we learned about Farmlink's mission and execution, the more impressed we became. Here was a group of remarkably proactive young people who recognized problems in the areas of food insecurity and food waste and devised a solution while scaling up at an incredibly rapid rate. We are honored to make The Farmlink Project our 2023 Month of Giving recipients with a contribution of $200,000 toward their efforts." 
- Peter Delgrosso, Executive Director of All Within My Hands
Let's bring some numbers to the surface ….
The USDA estimates that we are short 6.2 billion meals per year in the United States. That's what they call the meal gap. Now consider that 208 billion pounds go to waste annually in the United States alone. We need to recover and distribute less than 5% of this healthy food that goes to waste to alleviate hunger in this country. 
The money you raised this month will fund the delivery of hundreds and thousands of meals, averaging over 50 truckloads of food per week. By taking produce that would otherwise rot away and reallocating it to hungry communities, The Farmlink Project solves two problems at once.
"A massive thank you goes out to the entire Metallica Family. Since day one, these fans have embraced All Within My Hands, enabling the Foundation to make a significant impact immediately. Whether you rounded up your total when shopping for your Metallica merch or beat out 36 other fan club chapters – shout out MASSter of Puppets, who raised over $20k – every penny you gave made a difference. You are the reason we can contribute to Farmlink this month and to many other admirable non-profits doing hands-on work year-round. We can't wait to see what we accomplish together next year!" 
- Peter Delgrosso
And finally, we'd like to extend our heartfelt gratitude to the artists and partners who donated their time, talent, goods, and money to this campaign. Thank you, Carhartt, Squindo, Dunlop, Miles Tsang, Silver Luthier, and Wolverine, for continuing to support AWMH!