AWMH and Enlightened Team Up to Fight Hunger
SEPTEMBER 1, 2023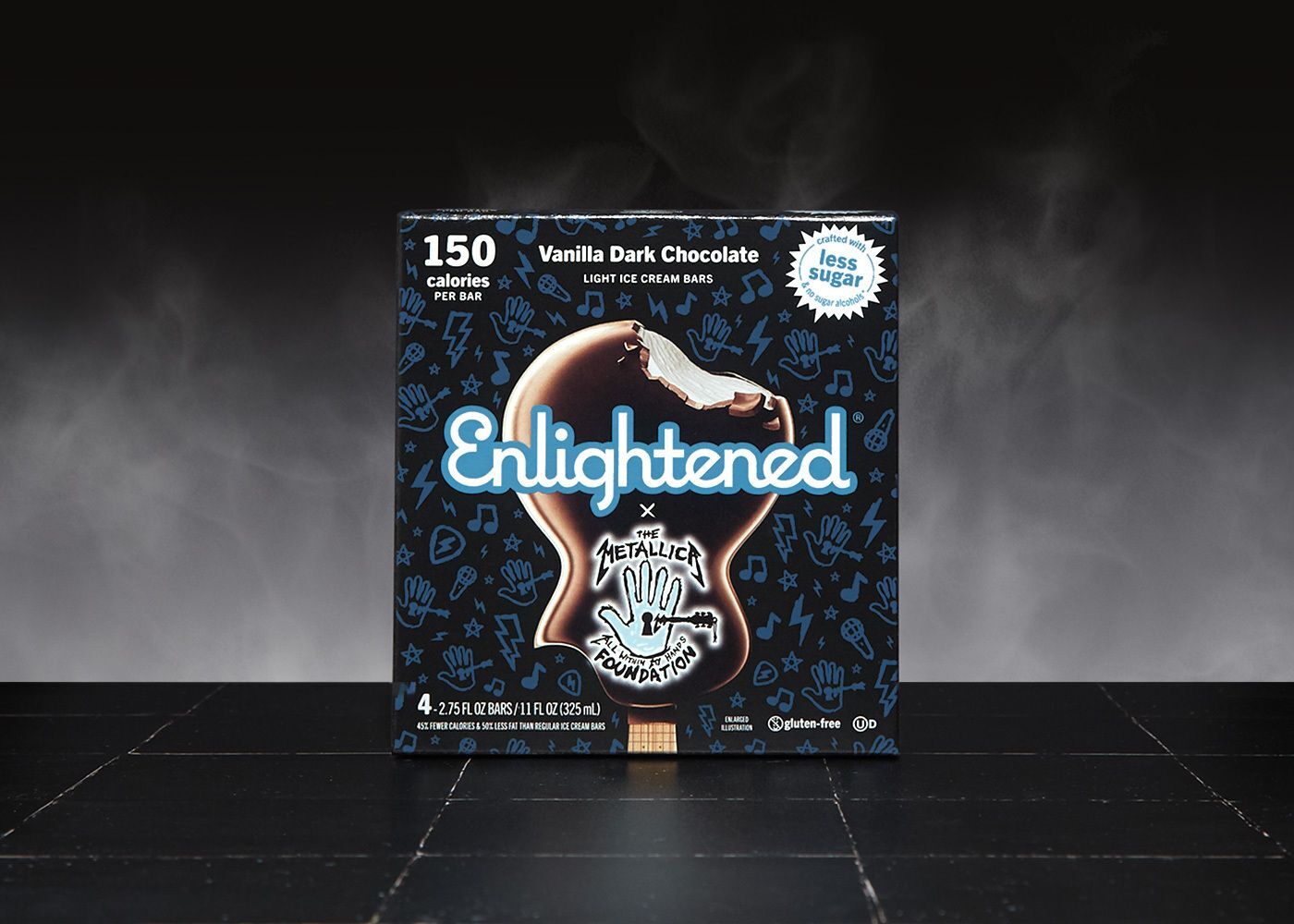 We are thrilled to announce our new partnership with Enlightened to join forces in the fight against hunger! The health-conscious ice cream company has created an AWMH and Metallica-inspired, guitar-shaped ice cream bar, launching nationally on September 6, 2023.
This vanilla bar coated with dark chocolate is uniquely Metallica, modeled after one of James Hetfield's own guitars.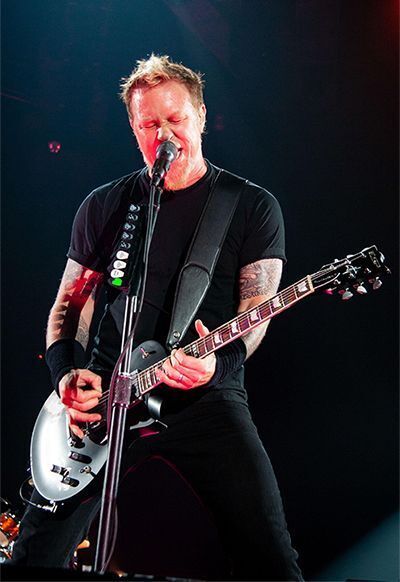 Enlightened worked with our friends at ESP Guitars to resurrect the design of the Truckster (once available as part of James' Signature Series line of guitars) and make sure they perfected the shape. And it wouldn't be an AWMH project without giving back. A portion of the proceeds from each purchase will help fund our work in the fight against hunger, supporting local food banks.
Accompanying this collaboration is a social media-based contest for free ice cream, and an online sweepstakes for an autographed ESP LTD AWMH Guitar! The black ESP LTD guitar is emblazoned with the All Within My Hands logos and signed in silver sharpie by all four members of Metallica (James Hetfield, Lars Ulrich, Kirk Hammett, and Robert Trujillo).
"We are thrilled to be partnering with All Within My Hands to create a product that not only brings joy to taste buds but also helps to make a positive impact on the lives of individuals facing food insecurity, a mission we have supported through our company history. By enjoying this delicious treat, consumers can join us in making a difference, one delicious bite at a time."
Michael Shoretz, CEO/Founder of Enlightened
"It truly takes a village to create real change. We are grateful that Michael and the team at Enlightened are getting behind our efforts to drive more awareness and contribution to our mission."
Peter Delgrosso, Executive Director of All Within My Hands
The AWMH x Enlightened guitar-shaped ice cream bar will be available for a limited time at Sprouts Farmers Market, Wegmans, ShopRite, H-E-B, Weis Markets, Safeway, Foodtown, and more. For more information, visit eatenlightened.com/awmh.
ABOUT ENLIGHTENED
Enlightened is the first and largest brand within Beyond Better Foods, a New York City-based company founded by Forbes Under 30 alum Michael Shoretz in 2012. A pioneer in the low-sugar dessert category, Enlightened was one of the first light ice creams on the market. The brand is widely distributed in US retailers, such as Sprouts Farmers Market, ShopRite, Wegmans, Publix and Walmart. Enlightened is recognized for producing innovative low-sugar treats, including Greek yogurt pints and bars, light ice cream bars, frozen yogurt bark, no-sugar-added ice cream pints, and chocolate covered dough bites and fruit bites. Shoretz founded Beyond Better Foods from inspiration from his personal training clients' desire for healthy alternatives to their favorite treats. Beyond Better Foods includes Enlightened and Bada Bean Bada Boom. For more information on Enlightened, visit eatenlightened.com.
ABOUT ESP GUITARS
Founded in 1975, the ESP Guitar Company is a leading global manufacturer of quality musical instruments. ESP has been building guitars for Metallica since 1987. ESP brands include ESP Custom Shop, ESP Original Series, ESP/LTD Signature Series, ESP USA, ESP E-II, and LTD. For more information, visit www.espguitars.com.