Helping Hands Concert & Auction
Live & Acoustic from Metallica HQ on November 14, 2020
OCTOBER 13, 2020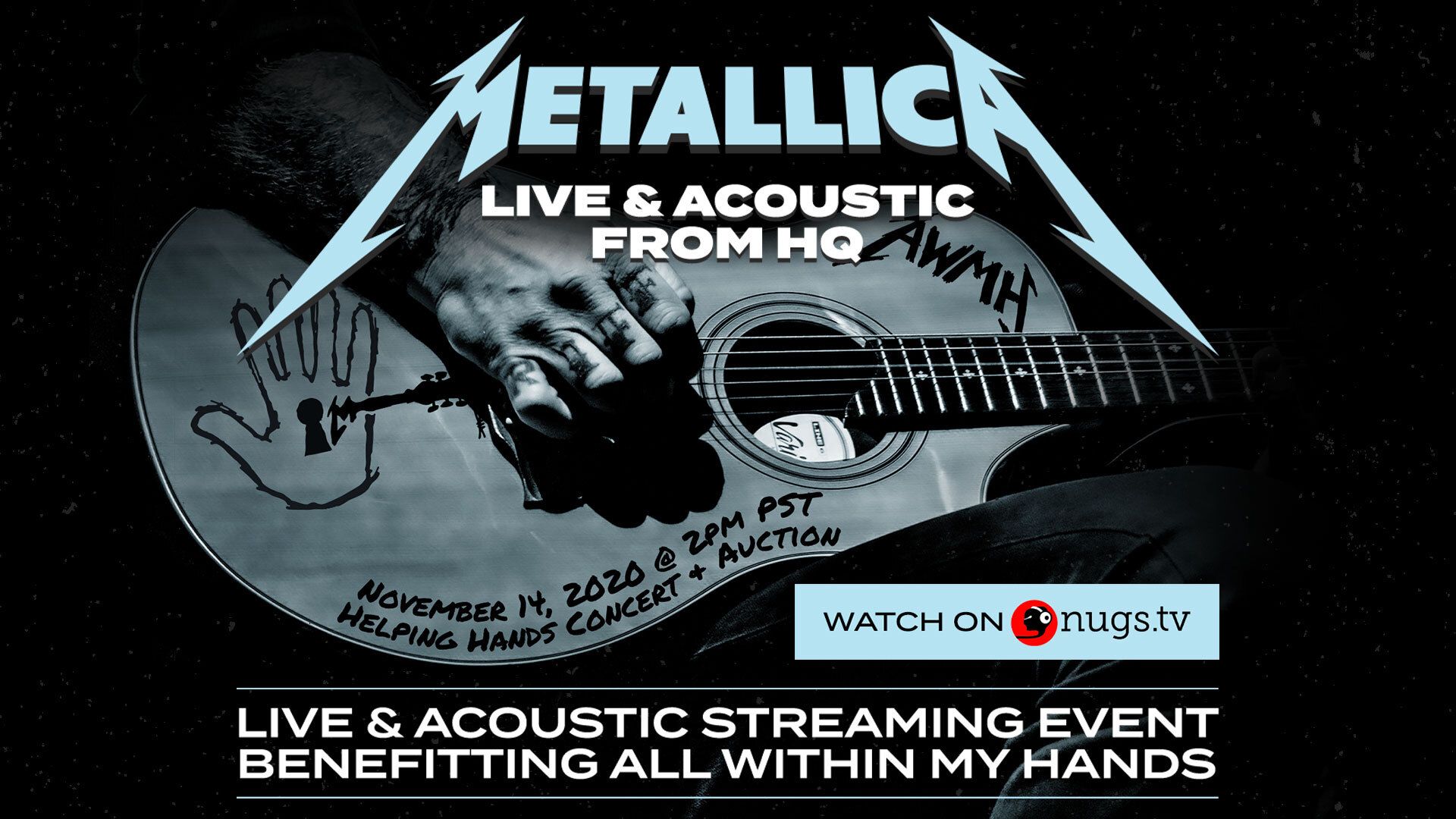 It's official… our second Helping Hands Concert & Auction is happening and this time fans all over the world can join!
Metallica will be streaming LIVE from HQ on Saturday, November 14th for their first ever worldwide pay-per-view event, performing a special acoustic show benefitting AWMH.
The show will kick off at 2pm PST that day, but don't worry if you can't join us live… your ticket will allow you to watch the show as many times as you like within a 48-hour period once you start the stream.
Tickets are on sale now with four packages available: watch the show, add on the event shirt and audio download, or even join us digitally on our virtual fan wall for one song. We'll also have some incredible auction items and experiences available for you to bid on a little closer to the show. As always, 100% of money raised, including ticket fees and auction items, goes directly to help someone in need; Metallica and generous sponsors are picking up all the expenses to produce the show.
We're incredibly proud of what this foundation - with your support - has accomplished, especially recently with so many of our friends in need. Just this year, AWMH has donated $645,000 to a number of COVID-19 related relief funds including Feeding America, Direct Relief, and several charities assisting those suddenly without work in the entertainment and hospitality industries. This fall, the Foundation also donated $350,000 to several agencies aiding those affected by wildfires up and down the West Coast. Finally, Metallica Scholars is now in its second year, supported by a $1.5 million grant benefiting 15 community colleges across the country.
We hope you'll join us for this very unique event on November 14th as all ticket sales will directly benefit the Foundation. We look forward to continuing these programs in 2021 and beyond with your help. For more info, visit metallica.com/awmh.