M72 World Tour Volunteering Opportunities
AUGUST 15, 2023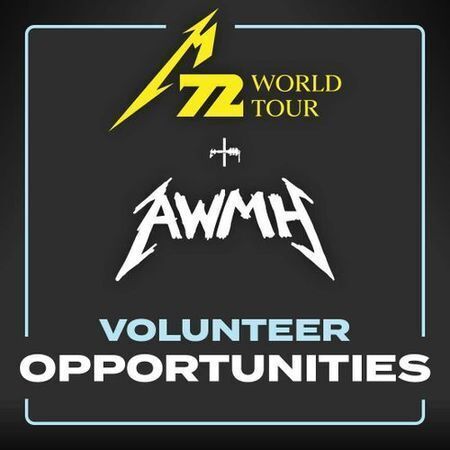 If you've been following along with the M72 World Tour, you know that Metallica and AWMH select charitable partners to receive grants in every city the band visits. These vital, dedicated organizations rely on donations… and not just monetary ones. Many of them would not be able to run without the generosity of volunteers who donate their time.
During this North American run of M72, the donation recipients in a few cities have made volunteer opportunities available for Metallica fans in town for the shows. If you'll be attending any of the shows this year and are interested in participating, check out the details below. But don't wait to sign up - spots are limited!
Upcoming
St. Louis, Missouri
Details coming soon.
Detroit, Michigan
Details coming soon.
Past Dates
Arlington, Texas
TARRANT AREA FOOD BANK
Sign up to volunteer on Saturday, August 19, from 1 - 4 PM.
When you click on the link, you will need to either create a profile or log in to your existing one. You will then be directed to the AWMH Team page.
Los Angeles, California
LOS ANGELES REGIONAL FOOD BANK
The Los Angeles Regional Food Bank will have volunteering opportunities for fans 18 and older on Friday, August 25 from 9 AM - 12 PM and from 1 PM - 3:30 PM.
SECOND HARVEST FOOD BANK 
Second Harvest Food Bank has a number of ways through which the Metallica Family can show their support: donations, virtual food drives, and volunteering. They currently offer volunteer opportunities for ages 7 and older with a chaperone at Harvest Solutions Farm and ages 13 and older with a chaperone in our Distribution Center.
Phoenix, Arizona
ST. MARY'S FOOD BANK
St. Mary's Food Bank will have volunteering opportunities for fans (12 and older with an adult or 16 and older without) on Friday, September 1, from 9 - 11 AM or from  1 - 3 PM.