Matching BLACKENED in Support of Team Rubicon
SEPTEMBER 16, 2022
When we learned that our friends at BLACKENED wanted to support the rebuilding efforts in Kentucky with the veteran-led humanitarian organization Team Rubicon, our only question was, how can we help?
In partnership with Kentucky Bourbon Hall of Fame Member, Wes Henderson, BLACKENED will support the rebuilding efforts in Kentucky by donating $25,000. Metallica and All Within My Hands will match this donation, making the overall total donation $50,000 to Team Rubicon.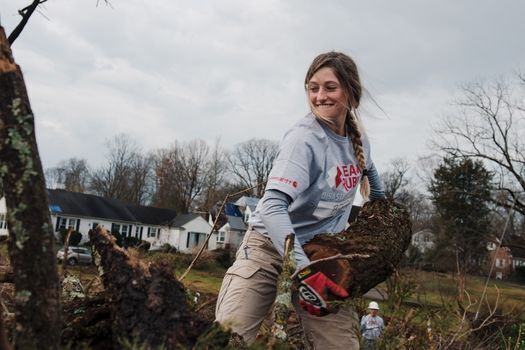 ABOUT TEAM RUBICON
Team Rubicon is a veteran-led humanitarian organization that serves global communities before, during, and after disasters and crises. Founded following the Haiti earthquake in 2010, the organization has grown to more than 150,000 volunteers across the United States and has launched over 1,100 operations domestically and internationally. To drive equity across disaster and humanitarian services, Team Rubicon focuses on three areas of impact: disaster services- from mitigation to immediate response to recovery; rebuild services- maintaining the fabric of communities through resilient building methods; and international services- providing emergent and surge medical services, WASH, and disaster risk reduction. Visit www.teamrubiconusa.org for more information.
ABOUT WES HENDERSON
Wes Henderson co-founded Louisville Distilling Company with his late father, Master Distiller Lincoln Henderson. He served as the company's Chief Innovation Officer from 2010 to 2022, working to turn Angel's Envy into a global brand, creating some of the finest, awards-winning whiskeys, and is recognized as a pioneer of the craft whiskey movement. He was inducted in the Kentucky Bourbon Hall of Fame in 2020, joining his father Lincoln as one of the few father/son inductees in the history of the industry. Prior to co-founding Angel's Envy, Wes was a self-described "serial entrepreneur" for 30+ years. He gained his foothold in the spirits industry at Brown-Forman as the CO of Master Distiller's Select, the President and CEO of Conecuh Ridge Distillery, the producer of Clyde May's Whiskey, and a Founding Partner of Papa's Pilar Rum.
In addition to spirits, Wes is a state-certified firefighter, where he is a trained member of the Regional Hazardous Materials and Weapons of Mass Destruction Task Force. He is also a Deputy Oldham County Coroner working as Death Investigator, Sworn Law Enforcement Officer, and member of the Kentucky State Mass Casualty and Disaster Response Team. Furthering his passion for flight, he has also served as Lieutenant in the Civil Air Patrol as a pilot, specializing in search and rescue operations, and he studied Aviation at the Florida Institute of Technology.
ABOUT SWEET AMBER DISTILLING CO.
Established in 2018, Sweet Amber Distilling Co. is a producer of hand-crafted spirits. Helmed by Co-Founder and CEO John Bilello, Sweet Amber launched with the creation of BLACKENED® - a masterful collaboration between late whiskey luminary Dave Pickerell and rock icons Metallica, which is now available in all 50 states and parts of Canada, with plans to expand rapidly. Sweet Amber is a nimble, dynamic organization that is completely virtual, allowing greater flexibility, efficiency, and geographic coverage across the U.S. with a depth of experience in the spirits and music industries.