Emma Lynn - Valencia College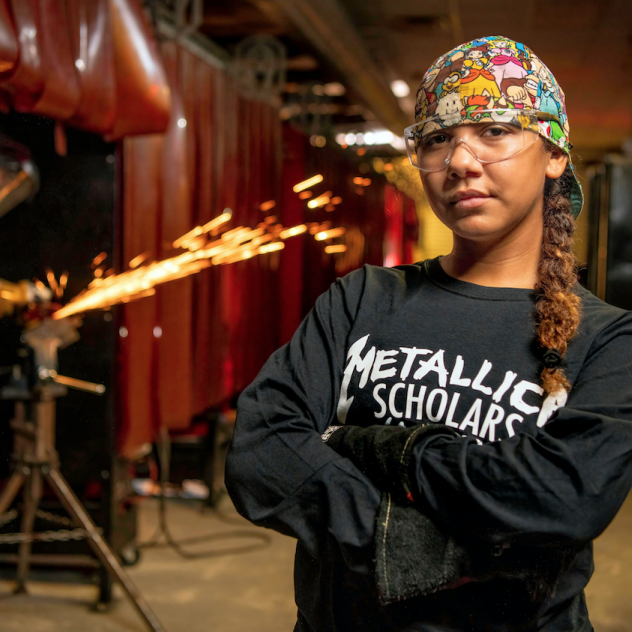 Emma Lynn Ponds, a welding student at Valencia College, is hoping that through her education she can lift her family out of poverty. When Emma Lynn was in middle school, her mother fled a domestic abuse in New York and brought Emma Lynn and her brother to Florida, seeking a new life. The move left them homeless and eventually living in a women and children's shelter while Emma Lynn was maneuvering her late middle school years.
"We thought we would have this new life and it was just a mess in the beginning," she says. "My whole life, people have told me I wouldn't be able to graduate from high school, that I wouldn't be able to go to college, and now I'm here and it's just amazing."
Emma's excitement and passion for welding began while working at the front desk of Valencia's Advanced Manufacturing Training Center (AMTC) in Kissimmee. While she studied for her Associate in Science degree at the nearby Osceola Campus, she watched students enter the facility and pick up torches to cut through steel, or master machinery in pursuit of a new career path. One day, when a student asked her to jump into a bay and give welding a shot, she couldn't say no.
"I fell in love with everything about welding. The sparks, the glow, the lights, and I knew then that I had to do something in this field," she says. "Even my mom said, 'That place is calling to you for a reason, those students pulled you into that welding bay for a reason. You're meant to be there.'"
Fun Fact: Emma's mom attended a Metallica concert when she was pregnant with Emma Lynn so you could say metal runs in her veins, so a career as a welder is quite fitting! 
"If I could compare welding to me, basically, I was broken down into all these little pieces of metal due to hard times and now I am building myself into something better." - Emma
A local news team recently featured her story and the college shared it with us, click here to watch.
Excerpt from Emma's story courtesy of Behind the Bay: Metallica Scholar Finds Empowerment Through Welding, by McKenzie Lakey.