Metallica Scholars Spotlight
Rohando - Valencia College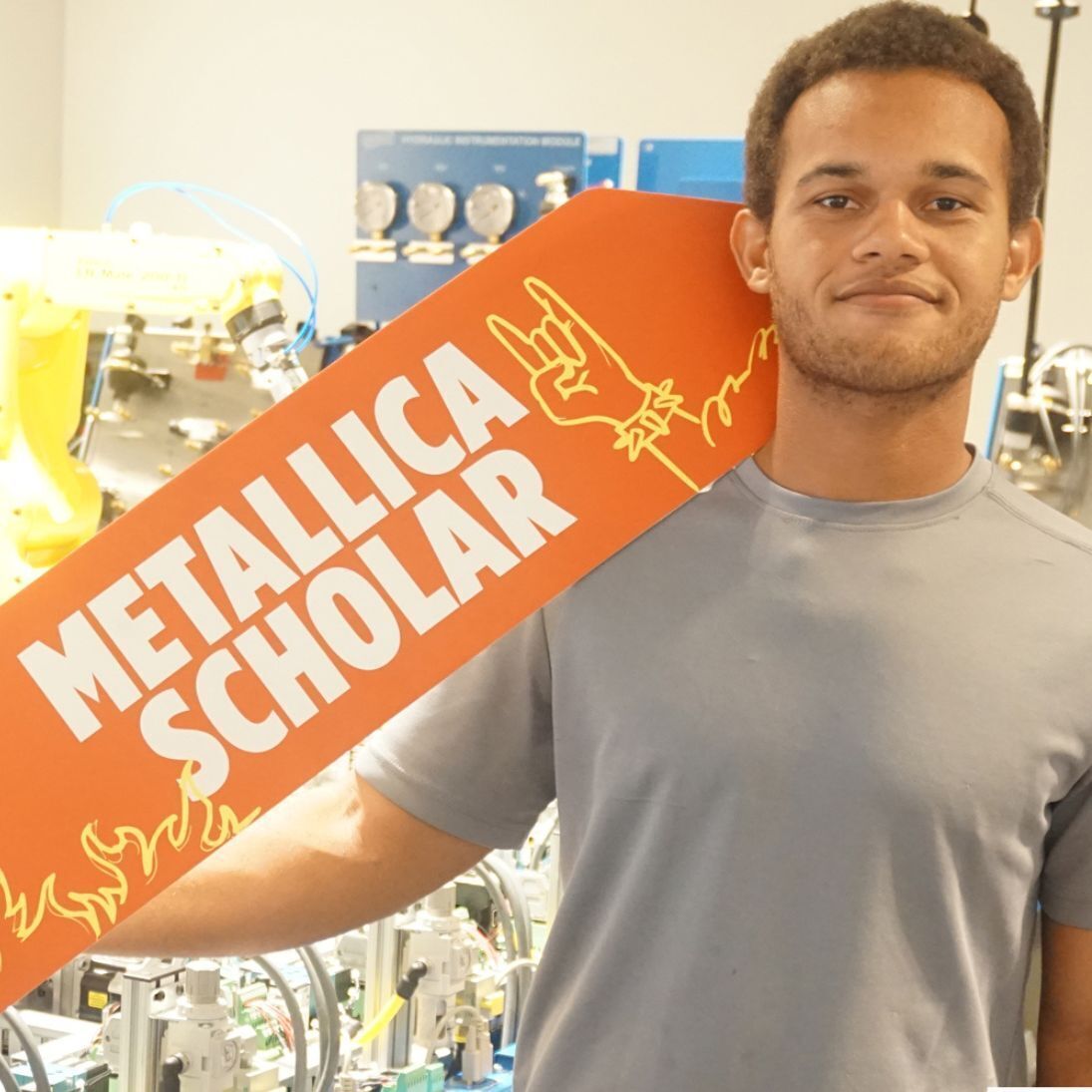 Rohando Malcolm came to the United States with his family at a time of worldwide tumult during COVID-19. Malcolm migrated with his family to America in 2018, and he finished his degree in Mechanical Engineering from Kingston, Jamaica's University of Technology in 2021. 
Finishing his degree after moving stateside was certainly a challenging experience, but the following year was even tougher due to COVID. As an unemployed graduate, Malcolm's mom tried to nudge him into Valencia College's CDL Class A course, but he had other ideas.
"One of my first jobs was working on cars as a mechanic from the age of 13. Then I went to high school, and I got involved in technical subjects, working with lathes, drill presses, and other tools. It became a hobby ever since."
It has become more than a hobby as Malcolm has turned it into a full-fledged career. After more than a year of unemployment, Malcolm has begun working as a technician for tissue paper producer Sofidel America, making $27/hr after graduating from the Industrial Automation Technician – Mechatronics program.
It's been a long journey to get to this point, though, and it's one that Malcolm credits his training with the Valencia College Accelerated Skills program with putting him in a position to land his job.
"A lot of the things I learned in my degree were theories of how things work, and now seeing those things actually work opened my mind to new concepts. Seeing how things interact in a different way than I thought by just knowing the theoretical part from my degree makes me have a better grasp on how things work, how things go together, and how processes are actually performed.

"The training was exhilarating. When I was working on my degree, I thought it was all boring. But after I started to work with electronics, machines, and mechanisms I thought this is something I can see myself doing."
Enrolling in the Industrial Automation Technician – Mechatronics program was life-changing for Malcolm. But there was a barrier that needed to be breached for him to open the floodgates to his future. Metallica's foundation, All Within My Hands, broke down that barrier for Malcolm and was the wind at his back propelling him to Sofidel.
"It helped a lot, especially since I was unemployed for a year coming out of COVID. I wanted to do something to get me into this field and stand out. The funding was very important because I couldn't have paid for it on my own. The scholarship opened that door."
Past Spotlights