In February of 2017, we announced the formation of All Within My Hands. The Foundation aims to assist and enrich the lives of members of the communities who have supported the band for years, as well as encourage participation from fans and friends. All funds raised will be donated to a cross-section of national and local charities... every penny from your donations will go directly to our charity partners.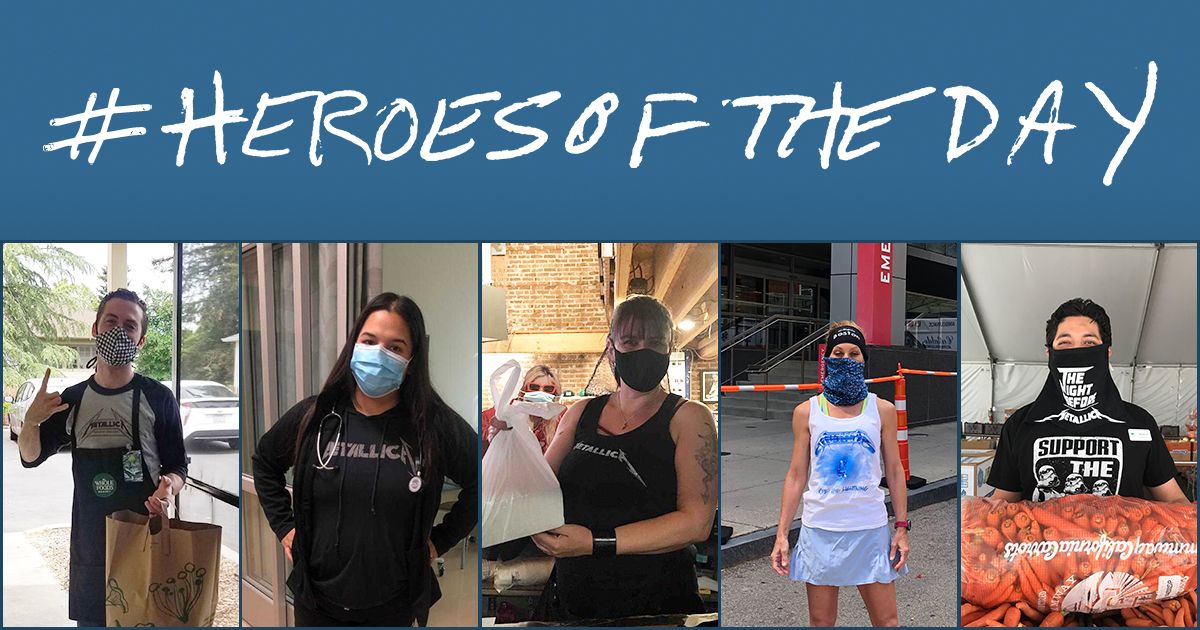 There are heroes all around us, making a difference during this pandemic. These days we call them "essential workers." Whether you're a first responder, healthcare worker, food bank volunteer, grocer, truck or food delivery driver, or restaurant worker - people are performing selfless acts to keep us safe and healthy and to keep our lives as normal as possible during this abnormal time. And some of them even like their music heavy!!
Share a photo on Instagram using #HeroesOfTheDay and tell us about yourself or someone you know who loves Metallica and is on the front lines and we'll make sure to thank them!
Fans around the world chipped in and raised over $200,000 to assist AWMH in our continued support of Feeding America, Direct Relief, Live Nation's Crew Nation initiative, and the USBG Charity Foundation's Bartender Emergency Assistance Program.
Read More >

Throughout May, we're highlighting the four organization we have supported through our grants for COVID-19 relief. Learn more about the critical work that Feeding America, Direct Relief, Crew Nation, and the Bartender Emergency Assistance Program are doing, and how you can help.
Read More >

The Michigan Department of Education has selected our scholar Krista of Grand Rapids Community College as the recipient of the Michigan 2020 Breaking Traditions Merit Award for 2020.
Read More >
At every stop on the WorldWired Tour throughout North American and Europe, either All Within My Hands or Metallica have donated $10,000 to a local food bank within each community the band visits. In November 2018, AWMH held its inaugural benefit: The Helping Hands Concert & Auction. Metallica headlined with a rare acoustic performance.
Read More

In conjunction with CrowdRise, Metallica provided experiences for lucky winners on every stop of the 2017 North American WorldWired Stadium Tour as well as the 2018/2019 North American WorldWired Arena Tour.
Read More